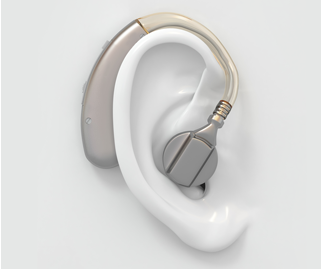 Phonak Hearing Aids Mesa, Arizona
Experience Sound Clearly
At Fynes Audiology, we believe that no one should have to live with hearing loss. By providing patients with a wide range of hearing aid options designed to enhance sound while eliminating background noise, we can help patients once again experience sound clearly. Stop straining to listen – experience the effective, life-changing Phonak hearing aid. Contact Fynes Audiology in Mesa, Arizona today, where we help patients throughout Phoenix, Scottsdale and Tempe reclaim their quality of life.
Phonak Spice Generation Hearing Aids
When you schedule a consultation at Fynes Audiology, our qualified audiologists will provide a thorough evaluation of your hearing loss to determine which type and brand of hearing aid is best suited to your individual needs. While each Phonak product has its own benefits, each of the brand's hearing aids is designed deliver a clear, crisp quality of sound while eliminating the frustrating background noise associated with more outdated models.
The newest generation of Phonak hearing aids is designed to provide the most advanced sound quality in the most discreet design to date. Patients using Phonak products in both ears will benefit from the system's many features:
Four state-of-the-art microphones endowed with StereoZoom technology make it easy to eliminate background noise and focus on the sounds you want to hear.
A new ContourDesign technique allows the subtle devices to disappear behind the ear—so while you're receiving incredibly improved sound, no one has to know.
The line's custom In-the-Ear models are stable and discreet, offering cosmetic and functional benefits
The new hearing aids are moisture-protected for increased reliability and longevity.
As an added convenience, the subtle devices can be adjusted by the system's PilotOne remote control.
Discover if a cutting-edge Phonak Spice Generation hearing aid is right for you by contacting Fynes Audiology in Mesa, Arizona today.
Phonak Ambra
The Phonak Ambra is a top-end hearing aid designed for premium performance. Offering innovative solutions for quality sound in the most difficult environments, the Phonak Ambra allows users to personalize their listening experience. In addition to StereoZoom technology, the Ambra line boasts a number of benefits.
The UltraZoom Premium directional microphone adapts, using spatial cues, to effectively cancel out background noise, focusing instead on sounds users want to hear—like the voice of the person they're talking to.
Auto ZoomControl intuitively focuses on the sounds of speech, regardless of which direction the user is facing.
The DuoPhone feature restores the simplicity and enjoyment of phone calls. By automatically transferring sounds from the telephone to the opposing ear, users can hear the conversation in both ears.
Phonak Ambra hearing aids are available for the correction of mild to severe hearing loss, and empower users to personalize the experience of sound.
Phonak Solana
An impressive mid-range option, the Phonak Solana offers powerful performance for the price, showcasing a number of enhanced features.
ZoomControl allows users to choose the direction in which to focus their hearing. Streaming between the two hearing instruments allows for continual clear sound as users shift their attention to the right, left, back, or front.
UltraZoom Advanced eliminates background noise with the advanced SNR-Boost noise cancelling system.
The FlexVolume feature structures adjustments in a manner unique to individuals with hearing loss, allowing users to adjust sound based on frequency rather than volume. In addition to adjusting loudness, users experience greater clarity when they raise the sound level.
Phonak Cassia
Now, experiencing clear, high-quality sound is more affordable than ever. A basic hearing aid that doesn't compromise when it comes to quality, the Phonak Cassia provides the best results for the most manageable price.
Cassia hearing instruments are available in 17 colors, so you can be discreet with Beach Beige, or make a statement with Chili Red.
SoundRecover technology makes even hard-to-hear sounds, such as high-pitch noises, more audible.
UltraZoom Standard automatically focuses on the sounds in front of you—so that, in a crowded room, you can focus your attention on the person you're talking to.
The WhistleBlock feature prevents your hearing instrument from emitting any audible feedback.
NoiseBlock Standard eliminates background noise so you can focus on the sounds you want to hear.
Phonak iCom TV Link
At Fynes Audiology, we believe that individuals with hearing loss should still be able to participate in the daily activities they enjoy, such as watching television—which is why we offer the Phonak iCom TV Link. Bluetooth technology wirelessly connects your Phonak hearing aid to the TV, so you can experience the StereoSound listening experience while watching your favorite shows. Added features include a transmission range of up to 30 meters and a remarkably quick 60-second set-up time.
Learn More about Phonak Hearing Aids
Experience clear, quality sound with a Phonak hearing aid. At Fynes Audiology in Mesa, Arizona, we are committed to providing patients with a wide range of choices designed to suit every need and budget. Contact us today to learn more, or to schedule a personal consultation with one of our qualified audiologists.