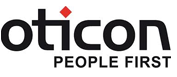 Oticon Hearing Aids Mesa, Arizona
Make a Sound Investment
An established name in audiology, Oticon is dedicated to empowering hearing aid users with the ability to make the most out of the hearing they have. Oticon products provide true-to-life sound quality while offering advanced technology that makes it easier for users to personalize their listening experience. Fynes Audiology offers a wide range of hearing aids designed for every patient's budget and needs; to learn more about Oticon products, contact our Mesa, Arizona audiology clinic today.
Oticon Rise 2 Hearing Aids
The Rise 2 platform is the latest development from Oticon, boasting a significant improvement in processing power that allows sound to be transmitted to your hearing aids twice as fast as before. Rise 2 products connect easily to telephones, TVs and other media devices, and are now available in sleek, discreet styles—so you can enjoy a better look as well as improved sound. Offering best-in-class performance and a host of attractive features, Oticon Rise 2 may be the solution to your hearing loss.
The Oticon ConnectLine allows you to connect your hearing device wirelessly to TVs, computers, telephones, and even MP3 players, so you can enjoy your daily activities and keep up with the latest technology.
A variety of styles are available, including in-the-ear and in-the-canal options, for patients with mild to profound hearing loss. Seven color options allow patients to personalize their instrument.
New features including Speech Guard and Spatial Sound 2.0 are designed to enhance quality of sound while preserving the natural characteristics of speech.
At Fynes Audiology, we are proud to offer a number of Oticon Rise 2 models to correct your hearing loss. During a personal consultation with one of our qualified audiologists, we will be able to determine which hearing instrument will be most beneficial for your needs.
Agil
Now, users can process more sounds with less energy. In fact, Oticon Agil is the only hearing instrument in the world that works in coordination with the brain's natural ability to process sound, giving users an exceptional listening experience Oticon has termed the "the energy of understanding." Agil hearing instruments are available in seven color options, and feature the advanced technology that Oticon is known for.
Spatial Sound 2.0 enhances the user's ability to organize sounds by recognizing natural spatial and speech cues. Users can choose which sounds to focus on in a crowded room, and which to ignore.
Agil's Speech Guard feature provides revolutionary improvement to the user's ability to follow speech, even in the most difficult environments.
Connect[+] allows users to easily connect their devices to TVs, telephones, computers and MP3 players. The innovations of Power Bass and Music Widening provide a richer listening experience.
Chili
Designed to help users make the most of their residual hearing, Oticon Chili products are designed to assist people with severe to profound hearing loss. Available in a variety of natural tones to match your skin or hair color, the behind-the-ear devices are among the most discreet hearing instruments on the market today. In addition to aesthetics, the Oticon Chili offers a powerful package of benefits.
Dynamic Speech Enhancement adjusts to provide the optimum loudness level for a variety of speech inputs.
The Spatial Noise Management feature automatically balances sound so speech is heard clearly, and background noise is diminished, in both ears.
Split Directionality eliminates background noise without compromising low-frequency tones.
Acto
Acto products combine Oticon's high-performance technology with affordability to provide clients with an excellent mid-range hearing aid option. Acto products are available in seven colors, and come in both in-the-ear and behind-the-ear styles.
The Dynamic Feedback Cancellation System constantly analyzes the user's environment for potential background noise, eliminating it before it's heard.
Binaural Synchronisation provides balance, comfort and clarity to users' listening experiences.
A bandwidth of 8KHz provides richer, clearer sound while enhancing your hearing aid's ability to capture speech cues.
Ino
The Oticon Ino was designed for users seeking a basic yet powerful hearing aid, and provides the essential benefits clients have come to expect from Oticon products. With Rise 2 technology at its core, the Oticon Ino provides exceptional entry-level hearing, featuring:
Binaural Coordination ensures a balanced listening experience that feels as natural as possible.
Adaptive Directionality, which focuses automatically on the sounds the user is facing, so they can clearly hear the person they're speaking to.
Dynamic Feedback Cancellation identifies and eliminates unwanted background noise.
Oticon Ino products are especially easy to fit, and are available in a broad range of discreet styles. At Fynes Audiology, we will help you determine which hearing instrument is best suited for your needs.
Oticon ConnectLine Technology
Fynes Audiology shares Oticon's vision that hearing loss should never prevent you from living a full, active life. With ConnectLine technology, users are able to link their Oticon hearing instruments to their TVs, computers, telephones, MP3 players and mobile devices—so they don't miss a beat.
TV : ConnectLine TV allows users to watch their favorite programs, using the Streamer to control volume.
Telephone: ConnectLine Phone transforms a hearing aid into a wireless phone by allowing users to answer telephone calls simply by pushing the appropriate button on their Streamer, which has a built-in microphone that functions as a receiver.
Mobile Phones: Now, Streamers can connect to mobile phones via Bluetooth, allowing users to answer a cell phone call with the same ease as their landlines.
Computer: The Streamer converts Oticon hearing instruments into headphones, allowing the user to experience the full audio experience of their PC.
Music : The Streamer comes with a mini jack cable, allowing your hearing aid to connect to nearly any stereo source.
Learn More about Oticon Hearing Aids
To discover if an Oticon hearing instrument is right for you, contact Fynes Audiology in Mesa, Arizona today to arrange a personal consultation with a qualified audiologist.